---
Low-Voltage Current Transformer, POS Series
POS Series
Intended for 600-voltage systems, the POS Series Current Transformers are suited to public utilities and distribution panel builders. The POS Series is designed to meet international standards and has consistently earned a great level of customer satisfaction. Every POS Series Current Transformer is contained in an ABS exterior and encloses a high-quality coil, along with a 100% annealed oriented core - all manufactured for rated accuracy and output.
LV CT
Product Brochure: Low-Voltage Current Transformers, POS Series
General Catalogue: Current Transformers and Potential Transformers
Article: How to Choose a Current Transformer or a Potential Transformer
Product Features
Unique design for easy installation.
Top-facing terminals for easy wiring.
Terminal cover included.
Compact size for use in a small space.
Can be installed either horizontally or vertically.
Self-extinguishing material.
Can be used in a high-temperature or high-humidity environment.
ABS exterior in an attractive blue color.
Specifications
Standard: IEC 60044-1
Indoor type
ABS exterior
Highest System Voltage: 720V
Frequency: 50/60Hz
Secondary: 5A or 1A
AC/BIL: 3 /- kV
* Burden (VA) & Accuracy (Class)
Rated Burden: 1 ~ 40 VA
Accuracy: 0.5, 1.0 & 3.0 CL.
Model
**

Primary Ampere-Turn (AT)

Secondary Current (A)
POS-30R
75 ~ 300
 
 
 
 
5 or 1
POS-50R
 
100 ~ 500
 
 
 
POS-70R
 
 
300 ~ 800
 
 
POS-90R
 
 
 
500 ~ 2000
 
POS-120R
 
 
 
 
800 ~ 3200

* The Burden (VA) and its corresponding Accuracy (Class) are determined by the Primary Ampere-Turn (AT) of the Current Transformer.
** Primary Ampere-Turn (AT) = Primary Current (A) x Primary Turns (T).
Dimensions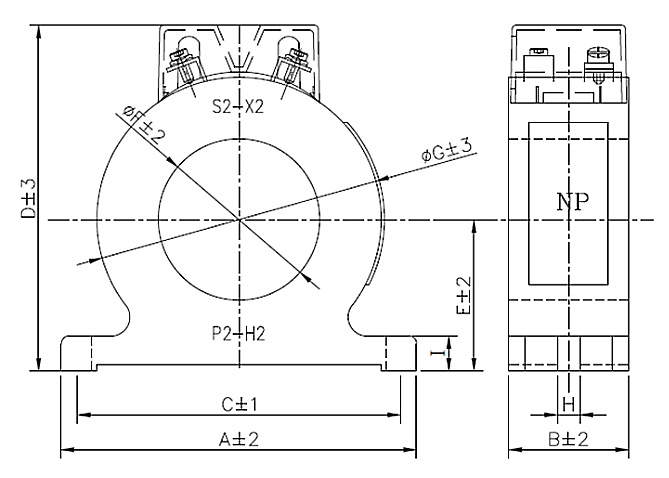 | | | | | | | | | | | |
| --- | --- | --- | --- | --- | --- | --- | --- | --- | --- | --- |
| Model | A | B | C | D | E | ΦF | ΦG | H | I | Approx. Weight |
| POS-30R | 93 | 36 | 83 | 85 | 38 | 31 | 73 | 7 | 11 | 0.4 kgs |
| POS-50R | 110 | 37 | 100 | 100 | 47 | 50 | 88 | 7 | 11 | 0.5 kgs |
| POS-70R | 130 | 37 | 120 | 120 | 57 | 70 | 107.5 | 7 | 11 | 0.6 kgs |
| POS-90R | 155 | 37 | 145.5 | 147 | 71.5 | 91 | 134 | 7 | 13 | 0.7 kgs |
| POS-120R | 195 | 48 | 175 | 185 | 90 | 121 | 170 | 9 | 13 | 1.1 kgs |
Related Products

---

Download Materials

---

Includes specifications, dimensions, product details, illustrations, and an introduction to CIC.

---

---

Includes ODM products, detailed drawings, a quick guide for product lookup by application and voltage, and an introduction to CIC's current transformers and potential transformers.

---

---

How to select, based on application and power system attributes, the primary and secondary currents, burden, accuracy, rated frequency, type (indoor vs. outdoor), insulation material, etc.

---

---