---
Control Power Transformers / LV Potential Transformers
CPT Series
Used as potential transformers or control power transformers (CPT's), these resin-cast (Class-A insulation) products are both economical and versatile.
About the Product
Suitable for use in machine tools or industrial equipment as a control transformer, this product is often referred to as an "industrial control transformer," "machine tool transformer," or "control power transformer (CPT)."
This versatile product can also be installed in low-voltage control panels as an auxiliary power source or as a potential transformer (voltage transformer) for measuring.
This low-voltage, single-phase potential transformer or control transformer is resin-cast for Class-A insulation. It is compact, economical, and easy to install.
Specifications
Standard: IEC or IEEE
Phase: Single-Phase
Frequency: 50 or 60 Hz
AC/BIL: 3/- kV
Resin-cast for Class-A insulation.
Conformance with UL safety requirements and regulations.
Terminal covers included for protection against electrical shocks.
Highly resistant to moisture, heat, and dust — appropriate for use at highly polluted locations.
Both the primary and secondary windings can be connected either in series or parallel to provide or produce different voltages.
Other standards and specifications upon request.
Selection Table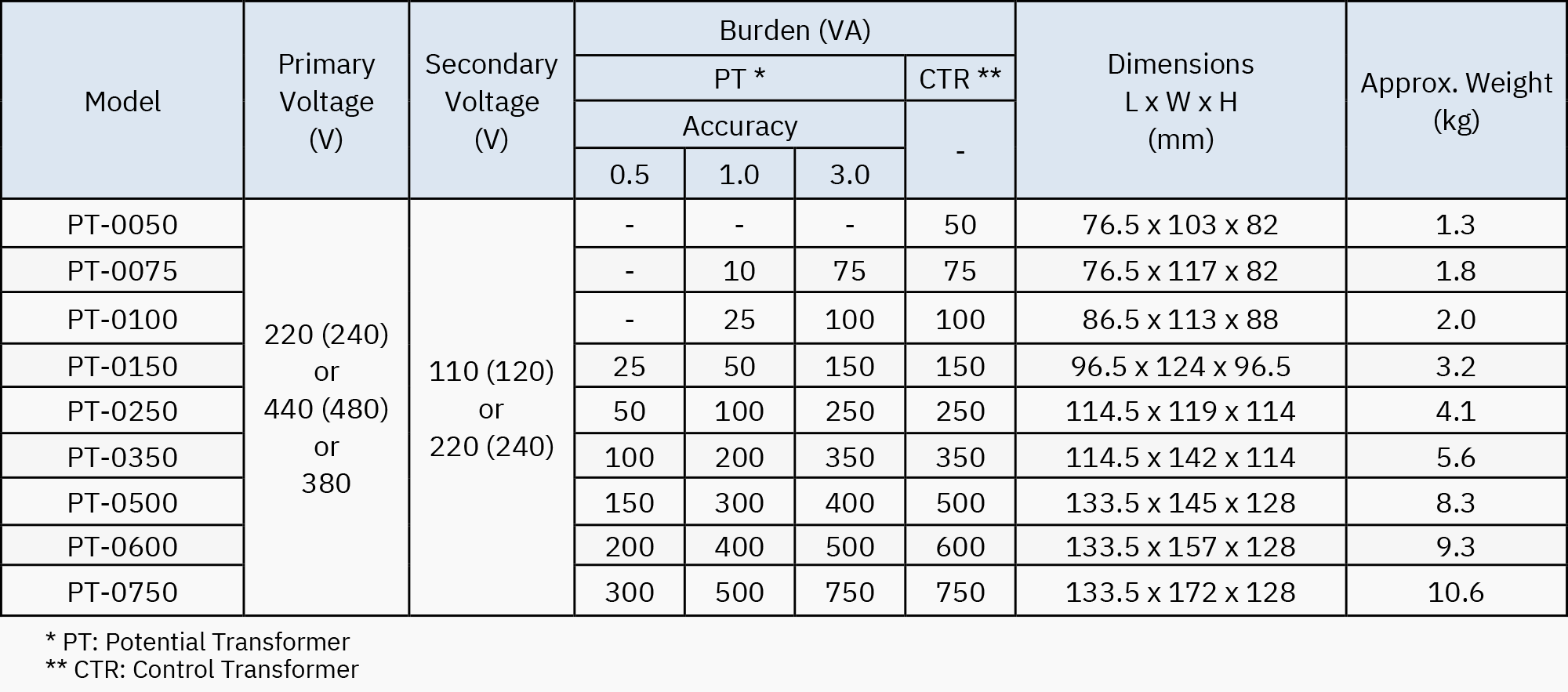 Download Materials

---

Specifications, wiring diagrams, drawings, and more.

---

---

Specifications, wiring diagrams, drawings, and more.

---

---

How to select, based on application and power system attributes, the primary and secondary currents, burden, accuracy, rated frequency, type (indoor vs. outdoor), insulation material, etc.

---

---

Related Products

S-N Series

---

Single-phase potential transformers for indoor locations of lower humidity. Class-A insulation material. Used with measuring or monitoring instruments, or as an auxiliary power source in the main panel or motor control panel.

---

EP-1S Series

---

Auxiliary power source for circuit breaker operation (select models). Featuring resin-insulated coils and suited for humid locations, this indoor low-voltage potential transformer has excellent moisture resistance and high insulation.

---

DSH Series

---

DSH Series low-voltage control transformers are compact, economical, and suitable for use in machine tools or industrial equipment.

---

---